Ahoy there me mateys!  It be Sci-Fi Month!!  Check out the announcement and join me crew!
I was introduced to the Universe of Xuya in her novella the tea master and the detective.  I adored the sentient spaceship and avidly wanted more.  The biggest problem is that the majority of this series are short stories and not all are easily accessible (give us an omnibus please!).  The author's excellent page discussing this world says that:
The premise of Xuya is that China discovered the Americas before the West, and that the exploration of this new continent prevented China from sinking inwards (not to mention being invaded by the Manchu, who later founded the ill-fated Qing dynasty, China's last imperial dynasty). Xuya (旴 涯), a Chinese colony founded in the 15th Century in North America, plays a central role in the stories.
The site also gives a chronology, background, and links to the Xuya short stories available online.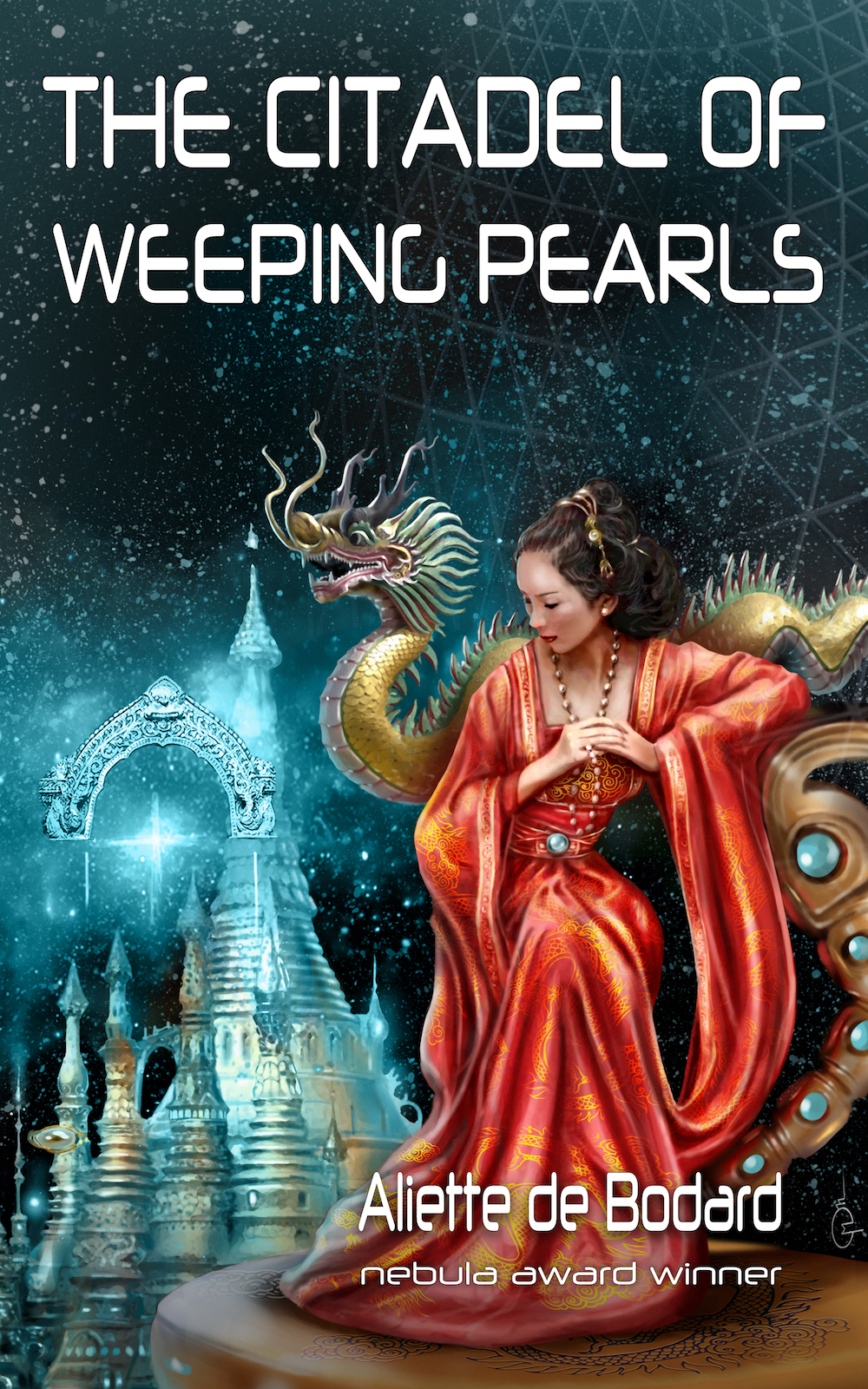 Thirty years ago, The Citadel of Weeping Pearls disappeared along with Ngoc Minh, the Empress' daughter, and other members of the station.  The Citadel had advanced scientific capabilities in the form of weapons and teleportation.  No one knows where it went but many people want to find it.
One such person is the Empress Mi Hiep.  Her empire is in trouble and she wants the weapons and other technology from the Citadel.  However, she had tried to have her daughter and the Citadel destroyed right before they disappeared.
Diem Huong is a scientist whose mother was on the Citadel when it disappeared.  She wants to understand how her mother could have left her when she was six years old.
Suu Nuoc is the Empress' general who is investigating the recent disappearance of a scientist who may have insight into the Citadel.  He is working with the mindship, The Turtle's Golden Claw.  I adore all mindships!  Arrr!
And the last perspective is from Ngoc Ha, who is another daughter of the Empress and the mother of The Turtle's Golden Claw.
I always love these stories but they are slices in a larger more complex world.  This was no exception.  The interpersonal relationships are the focus and deal with memory, regret, loss, and familial obligation.  The ending tied up the question of what happened to the Citadel but was abrupt in terms of how this story fits in the larger whole.  And yet this story, like the others, always makes me want more.  More insight into the world, the technology, the characters, and well everything.  Especially the mindships.  Give me more mindships!  Arrrr!
Goodreads has this to say about the novella:
The Citadel of Weeping Pearls was a great wonder; a perfect meld between cutting edge technology and esoteric sciences-its inhabitants capable of teleporting themselves anywhere, its weapons small and undetectable and deadly.

Thirty years ago, threatened by an invading fleet from the Dai Viet Empire, the Citadel disappeared and was never seen again.

But now the Dai Viet Empire itself is under siege, on the verge of a war against an enemy that turns their own mindships against them; and the Empress, who once gave the order to raze the Citadel, is in desperate needs of its weapons. Meanwhile, on a small isolated space station, an engineer obsessed with the past works on a machine that will send her thirty years back, to the height of the Citadel's power.

But the Citadel's disappearance still extends chains of grief and regrets all the way into the fraught atmosphere of the Imperial Court; and this casual summoning of the past might have world-shattering consequences…
To visit the author's website go to:
To buy the novel go to:
the citadel of weeping pearls – Book
To add to Goodreads go to:
Previous Log Entries for this Author
the tea master and the detective (On the Horizon – Fantasy eArc)
in the vanisher's palace (On the Horizon – Sci-Fi/Fantasy eArc)
on a red station, drifting (Captain's Log – Sci-Fi)
seven of infinities (On the Horizon – Sci-Fi eArc)
fireheart tiger (On the Horizon – Fantasy eArc)