Ahoy there me mateys!  I received this young adult fantasy eARC from NetGalley in exchange for an honest review.  So here be me honest musings . . .
house of salt and sorrows (Erin A. Craig)

Title: house of salt and sorrows
Author: Erin A. Craig
Publisher: Random House Children's / Delacorte Press
Publication Date: TODAY!! (hardcover/e-book)
ISBN: 978-1984831927
Source: NetGalley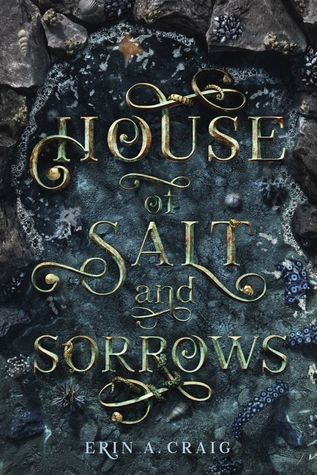 I have always had a soft spot for fairy tale retellings and this showcases one of me favourites – the twelve dancing princesses.  But it is darker than the more recent retellings of this story that I am used to.  I very much enjoyed the introduction to the novel which starts at a funeral for one of the sisters.  The world-building that revolves around the sea and island life made me very happy indeed.
I did mostly enjoy the two sisters Annaleigh and Verity but would have liked the rest of them to be fleshed out more.  I thought that the majority of the older sisters were kinda selfish and frustrating.  Not that they aren't selfish in the oldest versions of the fairytale but they seemed more like caricatures in this version.
The first half of the book was delightful but I didn't really love the turns the plot took later in the novel.  It was hard to understand what was real and what wasn't at the very end.  It was a bit too convoluted for me taste.  I would have preferred less of Annaleigh dithering and to have seen more about island life.  The romance didn't really work for me either.  I will say that I did love where the sisters ended up dancing every night.  I have no regrets about reading this atmospheric retelling for the new take on the beloved tale.
So lastly . . .
Thank you Random House Children's / Delacorte Press!
Goodread's has this to say about the novel:
In a manor by the sea, twelve sisters are cursed.

Annaleigh lives a sheltered life at Highmoor, a manor by the sea, with her sisters, their father, and stepmother. Once they were twelve, but loneliness fills the grand halls now that four of the girls' lives have been cut short. Each death was more tragic than the last—the plague, a plummeting fall, a drowning, a slippery plunge—and there are whispers throughout the surrounding villages that the family is cursed by the gods.

Disturbed by a series of ghostly visions, Annaleigh becomes increasingly suspicious that the deaths were no accidents. Her sisters have been sneaking out every night to attend glittering balls, dancing until dawn in silk gowns and shimmering slippers, and Annaleigh isn't sure whether to try to stop them or to join their forbidden trysts. Because who—or what—are they really dancing with?

When Annaleigh's involvement with a mysterious stranger who has secrets of his own intensifies, it's a race to unravel the darkness that has fallen over her family—before it claims her next.
To visit the author's website go to:
To buy the novel please visit:
house of salt and sorrows – Book
To add to Goodreads go to: