Ahoy there me mateys!  Did ye ever read a series that makes yer heart sing and tears come to yer eyes when it be finished?  Do ye ever feel conflicted about finishing a series because ye want to experience it all over again for the first time?  And yet yer also delighted to be able to read it again and find more nuances and favourite parts?  Do ye find yerself wanting to shout to the universe that this beloved series deserves more hype and more love and more attention?  This book was all that and more.  Seriously this was one of the best series I have had the pleasure of reading.  They say it's a children's book series.  Aye, it be that.  But it also be a series for anyone who loves good characters, clever writing, and books in general.  Age is just a number when it comes to this delight.  This is a series written with all ages in mind.
While the writer certainly deserves heaps of praise for tremendous work, part of what makes this series a masterpiece of fiction is the audiobook narrator, Katherine Kellgren.  With the words of the author and the transformative spirit of the narrator, the collaboration transcends into a true work of art.  When I read the mysterious howling the first time, I was seriously in awe of Kellgren's talent.  But through listening to her read 5 of the 6 books, she moved up in me regard to a true performing artist.  Why not the 6th?  Because Katherine passed away in 2018 after a battle with cancer and wasn't able to read the last installment.
There was a touching tribute to her from the author at the end of the last book that had me sobbing.  Me heart was broken from joy of the series, from the death of a Master storyteller, and from the fact that this series captured me heart and soul.  I know that most people won't understand but fellow booklovers are likely to have experienced that time when a book transforms yer inner being in ways that words don't do justice and makes the reader feel that the books were perfectly written to be exactly what was needed in that particular time and space.  These books were written specifically for me.  And everyone else.
Truly I cannot express what these books mean to me.  Also these six books were listened to in stolen moments taken in between other tasks.  Normally such disjointed listening of a book would lead to confusion or lack of absorption in the story.  But all it literally took was a couple of Katherine Kellgren's words for the real world to float away and for me to enter a dreamy, delighted state where I avidly followed the lives of the incorrigible children.  So here are some thoughts about the six books:
the mysterious howling (Maryrose Wood)
I have never been so glad for an impulse borrow from a local library.  The basic story is about a governess, Penelope Lumley, who sets up to meet her charges and finds a crazy situation where the three children were raised by wolves.  Before embarking on the rest of the series, I listened to this book a second time.  I found it as clever and wonderful as I remembered.  This book has taken a top spot in me favourites.  I still grinned like an idiot listening to this and laughed out loud.  I borrowed all of these audio books from the library but certainly will be buying this one (and more) so I can listen to it again and again.  The delight of Katherine Kellgren's voices appeal so much.  Also I listen to these at almost double speed and I swear it's magic.  The wolf-speech of the children in particular.
She had chosen Dante because she found the rhyme scheme pleasingly jaunty, but she realized too late that the Inferno's tale of sinners being cruelly punished in the afterlife was much too bloody and disturbing to be suitable for young minds. Penelope could tell this by the way the children hung on her every word and demanded "More, more!" each time she reached the end of a canto and tried to stop.
― Maryrose Wood, The Mysterious Howling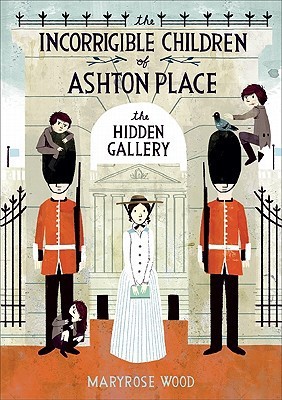 the hidden gallery (Maryrose Wood)
After the disastrous ending of the first book, the household travels to London.  It is in this installment that the author begins the lovely balance of absurdity of plot situations that somehow be perfect for the growth of the characters.  This section introduces a playwright named Simon.  I adored him.  The plot structure of the beginning of this one was a bit weak in parts but I didn't care.  There is a fantastic section involving theatre that was brilliant.  And pirates make an appearance.  The London postal service is awesome.  I was delighted by Lady Ashton's experience with the post.  Also I love ferns.
Nowadays, people resort to all kinds of activities in order to calm themselves after a stressful event: performing yoga poses in a sauna, leaping off bridges while tied to a bungee, killing imaginary zombies with imaginary weapons, and so forth. But in Miss Penelope Lumley's day, it was universally understood that there is nothing like a nice cup of tea to settle one's nerves in the aftermath of an adventure- a practice many would find well worth reviving.
― Maryrose Wood, The Hidden Gallery
the unseen guest (Maryrose Wood)
The incorrigible children and their governess have returned to Ashton Place.  An ostrich takes center stage.  Silliness abounds.  The children have to go deep into the forest for the first time since their dramatic rescue.  Will they want to come back out again?  This book is where family secrets are spilled and chaos reigns.  Some answers are delivered but just lead to more questions.  This may annoy some readers.  I just hung on for the ride and enjoyed.  Highlights of this book include Lord Ashton's mother and a séance.  And the racing ostrich.
"Busy hands and idle minds have knitted many a sweater; Busy minds and idle hands have knitted many a brow."
― Maryrose Wood, The Unseen Guest
the interrupted tale (Maryrose Wood)
Miss Penelope Lumley has been invited to be a guest speaker at her old alma mater.  She expects to spend a delightful weekend catching up with old friends and showing her beloved school to her current pupils.  Alas the school is under attack and Penelope must find a way to save it.  This plot is zany.  The silliness is growing in each subsequent book and I adore it.  This may be me second favourite of the bunch.  I can't really make up me mind.  The mystery plot thickens and the bad guy has been identified.  Some dastardly characters from previous books reappear.  There is a cool cat.  I still love ferns.
The girl sounded uncharacteristically bashful as she offered her gift. It was a small, hand-sewn pillow, with one word embroidered crookedly on its front. Loveawoo, it said.
― Maryrose Wood, The Interrupted Tale
the unmapped sea (Maryrose Wood)
The incorrigible children and their governess go to the sea on holiday.  Only it's February.  In Brighton.  The Ashtons and their household find this vacation anything but relaxing.  This book introduces fellow travelers named the Babushkinovs.  The interactions between the two groups are hysterical.  Also Katherine Kellgren's talent shines through in the voices that she picks for this family.  Answers to the mystery are provided but the outcome is far certain.  I absolutely loved Lady Ashton in this one.  She is a riot.  I was chuckling throughout this one.
Hard-hearted people may be no fun to sit next to at parties, but they are just as entitled to earn a living as the rest of us. Fortunately-for them, at least-the need for insurance adjusters, tax collectors, theater critics, and the like continues to this very day.
― Maryrose Wood, The Unmapped Sea
the long-lost home (Maryrose Wood)
I won't tell ye where this one takes place because of spoilers!  What I can say about the series is that I actually loved how it resolved.  One of the things that I took from the whole series is how deftly the author uses themes and images over and over again in each installment.  There are jokes that be delightful because of how they be intertwined in the various stories.  There is lots of clever wordplay.  There are tons of references to other famous books throughout.  For those who complained of the books being too drawn out, I humbly disagree.  The payout is not just the ending but in the entire journey itself.  The point was to live in the moment and savour.  I certainly did.  Also I have to give props to the narrator of book 6, Fiona Hardingham.  While I was seriously missing Katherine Kellgren, I can say that she did a good job with an impossible situation.  The ending was sweet and me salty heart softened quite a bit.
In me previous post, I stated that Katherine Kellgren narrated over 270 audiobooks before cancer stole her from us. I be glad there is lots of her work to experience and remember her by.  I look forward to celebrating her life and talent by listening to her bring other books to life.  This article lists the top five of which the first book in the series was one.
To visit the author's website go to:
To buy the novels please visit:
the incorrigible children series – Books
To add to Goodreads go to: