Ahoy there me mateys!  I received this fantasy eARC from NetGalley in exchange for an honest review.  So here be me honest musings . . .
seven blades in black (Sam Sykes)

Title: seven blades in black
Author: Sam Sykes
Publisher: Orbit Books
Publication Date: TODAY!! (paperback/e-book)
ISBN: 978-0316363433
Source: NetGalley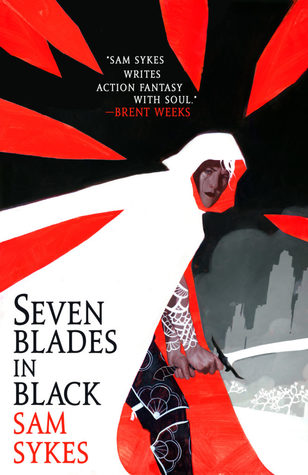 While I enjoyed this book, it didn't completely float me boat.  I think that this stems from me misconception that this was a standalone novel.  After finishing this, I really do wish it was and I even know what the ending could have been.  But I can hardly fault the author for writing a series can I?
I absolutely did love the main character, Sal the Cacophony.  She is sarcastic, fierce, intelligent, stubborn, destructive, obnoxious, full of self-preservation, and kinda insane.  I dig it.  Sal is out for revenge.  She is basically an outlaw who hunts down outlaw magicians for money and said revenge.  With an AWESOME gun that might not be completely inert and a sword named Jeff!  So why does Sal want revenge?  I am not going to tell ye wretches that!
The world building in this one be fun.  It has the feel of both a western and a fantasy.  Basically there are four crazy factions – 1) the Empire with its magicians; 2) the Revolutionaries with their machines; 3) the Scar with its independent "neutral" city-states; and 4) the Vagrants who be renegade magicians with allegiance to nobody but themselves.  I loved the magic in this world and how the trade for power works.  This was one of the best aspects of the novel.  I also very much enjoyed the other characters of Cavric, the proud, honorable soldier and Liette, the anti-social, book-loving scientist.  I loved the ridiculously long and poetic names given to people of a certain standing.  I even really enjoyed the framing of the story as Sal is in jail about to be shot for treason with the reader receiving her "confession."
But this did have problems.  The book really moved up until the 50% mark and then the plot and pace slowed down substantially.  Seriously, several large portions of the section from 50 – 75% could have been removed with no real change to the story.  There was a large reveal that I thought was coming (it was) and it irked me.  But then the author did some interesting things after that which drew me back into the story.  And there was Sal.  I loved her for the most part but she got repetitive A LOT in terms of both bravado and self-loathing after the half-way point.  That could have been toned down a whole bunch for the sake of flow.  And I was confused when the story didn't end like the writing led ye to believe it would.
I am glad I got to read this as I really did love the magic systems and Sal.  While I would have preferred a standalone story, I be interested in reading the next book in the series.  Just be forewarned should ye pick this up and go into it with the correct expectations.  Cause the magic and Sal be worth it.
So lastly . . .
Thank ye Orbit Books!
Goodreads has this to say about the novel:
Among humans, none have power like mages. And among mages, none have will like Sal the Cacophony. Once revered, now vagrant, she walks a wasteland scarred by generations of magical warfare. The Scar, a land torn between powerful empires, is where rogue mages go to disappear, disgraced soldiers go to die and Sal went with a blade, a gun and a list of names she intended to use both on. But vengeance is a flame swift extinguished. Betrayed by those she trusted most, her magic torn from her and awaiting execution, Sal the Cacophony has one last tale to tell before they take her head. All she has left is her name, her story and the weapon she used to carved both.

Vengeance is its own reward.
To visit the author's website go to:
To buy the novel go to:
To add to Goodreads go to: