Ahoy there me mateys!  Now I am not a big YA contemporary fan.  When I read YA, I tend to read sci-fi or fantasy books.  Occasionally I will read some historical fiction.  But I have to admit that the title and the cover for this one is what drew me in: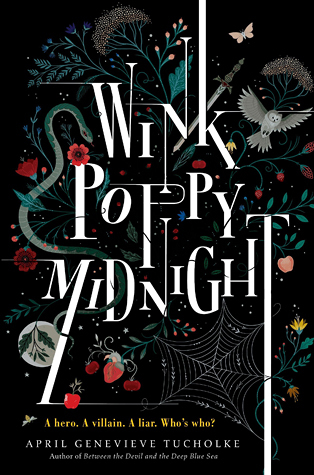 Even the blurb sounds beguiling and ambiguous and interesting.  So how did it turn out?  Ultimately underwhelming and annoying.
This is a major shame because the book was amazing up until the reveal.  The three main characters were distinct and fascinating and well-written.  I loved how each chapter was short, advanced the story, and switched points of view.  The story is about three teens.  Poppy is domineering and cruel.  Midnight was obsessed with Poppy but with a new move comes a new determination to be rid of her once and for all.  Wink is the new quirky next door neighbor who might be the key to helping Midnight get out from under Poppy's thumb.  I adored Wink.  I even liked readin' Poppy's crazy thought patterns.  Midnight was fun but the girls certainly stole the show.
This book was suspenseful and engaging.  There was this otherworldly feel to the story that made me have to know what happened next.  What was the truth?  What were the lies?  With the three perspectives I was kept guessing. Are there ghosts?  Do the tarot cards work?  How do the fantasy elements work?  How does the mystery turn out?
Not well.  All the delightful set-up, great secondary characters, and creepy plot with a rather infuriating conclusion.  Basically I ended up hating all three characters and what happens to them.  Argh!  So very grumpy.  I am still super impressed with the author's style and voice for each of her characters.  The writing was excellent.  The solution not so much.  I would be interested in reading another work by the author but have to admit that the negative ending has me wary.
Any of the crew read this one or one of her other books?  I would love to have some crew feedback.  Arrr!
Goodreads has this to say about the novel:
Every story needs a hero.
Every story needs a villain.
Every story needs a secret.

Wink is the odd, mysterious neighbor girl, wild red hair and freckles. Poppy is the blond bully and the beautiful, manipulative high school queen bee. Midnight is the sweet, uncertain boy caught between them. Wink. Poppy. Midnight. Two girls. One boy. Three voices that burst onto the page in short, sharp, bewitching chapters, and spiral swiftly and inexorably toward something terrible or tricky or tremendous.

What really happened?
Someone knows.
Someone is lying.
To visit the author's website go to:
To buy the novel go to:
To add to Goodreads go to: