Ahoy there me mateys!  I have read more books this year then there are days left to review them individually.  So today I bring ye a muster of mini-reviews.  What be a muster?
Well the Oxford English Dictionary defines it as:
assemble (troops) especially for inspection or for battle;
collect or assemble (a number or amount); or
a group of peacocks.
Here I take a look at the stowaways of 2018.  These are the books that I read this year but don't seem to have reviews for them yet.  They don't get full reviews because I be running out of time.  But me rule is that I have to review every book I read.  Arrrr!
Side note: the book covers come from Goodreads and ye can click on them to add the books to yer Goodreads' Ports for Plunder List.  
a demon in silver (R.S. Ford)
This book leads me to a rather embarrassing situation.  Ye see I thought I had reviewed this book.  When I realized I didn't and went to write thoughts for this unintended stowaway, I realized that I didn't remember the story at all.  And yet the emotions still tied to this book were that I couldn't put it down when readin' and I loved it.  I know that I planned giving this a 4.5 rating.  Sigh.  This is why I write this Log.  To refresh me memories and to capture the thoughts after finishing it.  I am telling ye that this is no reflection on the author or this work.  It is a poor reflection of what me memory can be like.  I am soooo so sorry for this sad, sad review that does not do this book justice at all.  I find meself disgraceful.  I should make meself walk the plank.  I did have a ton of fun rereadin' the crews exceptionally well-written reviews on this one and bringing back all of the forgotten details.  So to author, R.S. Ford – yer book deserved so much better than me shoddy review.  I be a sorry wretch who ain't fit to read yer sequel.  But I really want to.
Side note: check out those excellent reviews from crew members, Drew @ thetattooedbookgeek and Liz @ covertocover.
Staring at the back end of a carriage for mile after mile was no one's idea of theatre.  But it beat watching the back end of a horse, so Josten had that to be thankful for.
― R.S. Ford, A Demon in Silver
the false princess (Ellis O'Neal)
I found this young adult fantasy to be just an okay read.  I actually really liked the protagonist Nalia.  She learns at 16 that she is not the real princess but a decoy to a prophecy.  I really enjoyed how Nalia's new life takes unexpected trajectories.  I enjoy what happens with the real princess.  The problems with this one were all romance related.  I didn't hate the actual romance elements.  I didn't like the guy tossed in the middle as a bad plot point.  I think the story overall would have been much stronger with no romance even if I did like the real love interest.  Also the last quarter of the novel was a little strange for me even if the details about it have since gotten fuzzy.  But the crew has really enjoyed this one and I have no regrets.
I just want to be me—I just want to be useful and … content. I want to stop wondering if I'll ever feel whole and just be whole. I want to have a purpose one that I can look at without feeling like I'm less than I was.
― Eilis O'Neal, The False Princess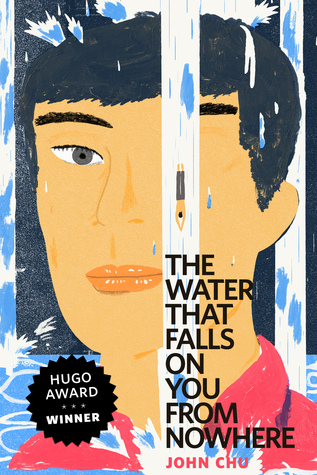 the water that falls on you from nowhere (John Chu)
This 22 page 2014 Hugo award-winning short story was absolutely wonderful.  Of course as it is from Tor.com I was expecting it to be.  In this version of the future, telling a lie causes water to fall from the sky.  How much water depends on how big the lie.  This phenomena brings Matt a whole additional set of concerns about coming out to his traditional Chinese parents.  I really enjoyed this quick read and absolutely loved the ideas and thoughts around telling lies.  What crazy complications that entails.  Yeesh!  I do recommend this one and ye can read it for free here.  Arrr!
The water that falls on you from nowhere when you lie is perfectly ordinary, but perfectly pure. True fact. I tested it myself when the water started falling a few weeks ago. Everyone on Earth did. Everyone with any sense of lab safety anyway. Never assume any liquid is just water. When you say "I always document my experiments as I go along," enough water falls to test, but not so much that you have to mop up the lab. Which lie doesn't matter. The liquid tests as distilled water every time.
― John Chu, The Water that Falls on You From Nowhere
slothilda: living the sloth life (Dante Fabiero)
I have always known that the sloth is one of me spirit animals (though mine would be sarcastic and grumpy).  So when Millie @ milliebotreads shared her thoughts on this gem, I knew I had to buy it.  It was worth every doubloon.  I absolutely love Slothilda and am very glad to have added this book to the hold.  This was not a stowaway because I just got it but gets included in this list because it is the end of the year and I have one more posting day.  I might have to buy merchandise.  Because of this:
So there ye have it.  Me last group of mini-reviews for the year.  There be one last read left.  Check out me blog on the last day of the year to see what it be.  The good news is that all me reviews are now caught up.  Arrrr!!