Ahoy there me mateys!  I have read more books this year then there are days left to review them individually.  So today I bring ye a muster of mini-reviews.  What be a muster?
Well the Oxford English Dictionary defines it as:
assemble (troops) especially for inspection or for battle;
collect or assemble (a number or amount); or
a group of peacocks.
Here I take a look at four young adult titles.  They don't get full reviews because I be running out of time.  But me rule is that I have to review every book I read.  Arrrr!
Side note: the book covers come from Goodreads and ye can click on them to add the books to yer Goodreads' Ports for Plunder List.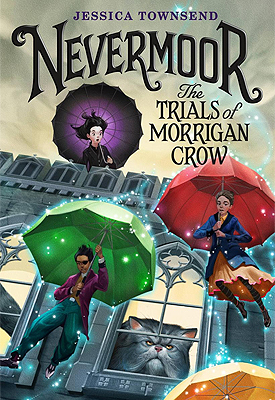 nevermoor: the trials of morrigan crow (Jessica Townsend)
This book has one of the best introductions and beginnings in a book in recent memory.  Morrigan Crow is cursed to die at midnight on her eleventh birthday.  The lead-up to this birthday and how her family treats her is just brilliant.  I won't spoil it here.  Of course Morrigan's expectations of doom turn out to be incorrect and she is invited to compete to become a member of the Wundrous Society.  I loved this part of the story too.  The tone changes completely and in a delightful way.  I loved Morrigan's' found family.  I love the hotel where she stays.  I adore the giant talking cat.  I adore this book period.  It is one where I don't feel that the details should be shared because readers should have the joy of discovering the delights for themselves.  I cannot wait for the next book.  Arrrrr!
Morrigan's night held only one possibility. Like every other child born precisely eleven years ago on the last Eventide, when the clock struck midnight she would die-the eleven short years of her doomed life complete; her curse finally fulfilled.
― Jessica Townsend, Nevermoor: The Trials of Morrigan Crow
the lost days (Rob Reger & Jessica Gruner)
I absolutely loved this audiobook!  It was narrated by Angela Goethals.  This book is about Emily the Strange who wakes up one day in a tiny town with no memories.  Emily is totally a kindred spirit for me and I am so glad I found her.  I wish I would have found her sooner.  This book is so funny and awesome.  I knew it was for me just based on the cover.  I can't really summarize the zany plot in any articulate fashion.  I cannot do this justice.  I must read the rest of the series.  Arrrr!
13 Elements you will find in the first Emily the Strange novel:
1. Mystery
2. A beautiful golem
3. Souped-up slingshots
4. Four black cats
5. Amnesia
6. Calamity Poker
7. Angry ponies
8. A shady truant officer
9. Top-13 lists
10. A sandstorm generator
11. Doppelgangers
12. A secret mission
13. Earwigs
― Rob Reger & Jessica Gruner, The Lost Days: Emily the Strange #1
the singer of all songs (Kate Constable)
I don't remember who convinced me to give this series a chance but I do know that it was the discussion of music that led to it.  I was warned that the series was read when much younger and so she didn't know if it would hold up.  I listened to this one on audiobook with narration by Karen Ziemba.  They actually excluded samples of the chanting which was cool.  They unfortunately used the exact same versions of the chanting for the entire book.  Not so cool.  I ended up thinking that this was just an okay read.  I did like the magic system and the main protagonist.  But the plot was not good for me at all.  Serious problems with it.  At least enough time has passed that I threw whole sections out of me noggin.  So won't be readin' any others in this series.  I am glad I read it and satisfied the curiosity I always had for the series.  I do think that if I was in middle school, I would have liked this series a lot more.
…There is a tale, as old as the Ancient Ones themselves, that one would arise who has that gift: to sing all the chantments, the high notes and the low, the swift rhythms and the slow. And this person would be more powerful than even the Ancient Ones were, as powerful as the gods themselves.
― Kate Constable, The Singer of All Songs
the mysterious howling (Maryrose Wood)
This was an impulse borrow from a local library.  I needed an audiobook to listen to and this was the only one that sounded even slightly good to me in me mood that day.  I thought the narrator, Katherine Kellgren was fantastic and she made the book for me.  Her voices had me giggling.  There is a sequence with a squirrel that was just divine.  The story is about a governess who sets up to meet her charges and finds a crazy situation where the children were raised by wolves.  I fell in love with both the governess and the three incorrigible children.  This is a six book series and I do want to listen to all of the others.  This would be a great book to listen to in a long car trip.  Arrr!
Side note: Apparently Katherine Kellgren narrated over 300 audiobooks.  She passed away in 2018 after a battle with cancer.  I am glad there is lots of her work to experience and remember her by.  This article lists the top five of which this novel was one.  I have been meaning to read the Bloody Jack series.  Now that I know it has been narrated by her it is a must-listen to this year.  Hell, I need to listen to the whole list.  Arrr!
She had chosen Dante because she found the rhyme scheme pleasingly jaunty, but she realized too late that the Inferno's tale of sinners being cruelly punished in the afterlife was much too bloody and disturbing to be suitable for young minds. Penelope could tell this by the way the children hung on her every word and demanded "More, more!" each time she reached the end of a canto and tried to stop.
― Maryrose Wood, The Mysterious Howling
So there ye have it.  Me comments on some young adult books from me past.  Arrrr!!