Ahoy there me mateys!  I have read more books this year then there are days left to review them individually.  So today I bring ye a muster of mini-reviews of five fantastic fantasies.  What be a muster?
Well the Oxford English Dictionary defines it as:
assemble (troops) especially for inspection or for battle;
collect or assemble (a number or amount); or
a group of peacocks.
They don't get full reviews because I be running out of time.  But me rule is that I have to review every book I read.  And these were sooo good.  Arrrr!
Side note: the book covers come from Goodreads and ye can click on them to add the books to yer Goodreads' Ports for Plunder List.
selin ascends (Josiah Bancroft)
This book kinda defies categorization.  The basic plot is that a reticent schoolmaster, Thomas, takes his bride to the Tower of Babel on their honeymoon.  But what is meant to be a romantic holiday turns to hell when Thomas loses his wife in the crowd.  He is determined to find her but has to confront the many levels of the Tower with its laws that seem to defy all logic and rationalization.  This book is an absolutely lovely slow-burner of a book.  I have tried to write a review multiple times for this one only to fall short.  This is a super complex and detailed world which fascinates as much as it confounds.  I thought the theatre ring of the tower was absolutely perfect.  As good as this book is, I don't find meself rushing to get the next book of the series.  Small steps with this one.  All I need now is the right mood to savour the next one.  Arrrr!
Mirrors are not so honest as one might think. They can be mugged at, bargained with, and one can always ferret out a flattering angle. Really, there is nothing like the expression of a long-lost friend to reflect the honest state of your affairs.
― Josiah Bancroft, Senlin Ascends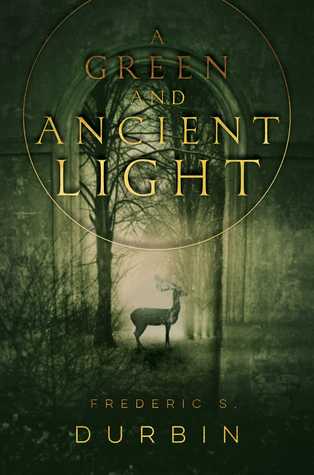 a green and ancient light (Frederic S. Durbin)
This book was one of me NetGalley Rejections back in the day and I am so glad I was able to finally read this.  It is set in a world similar to ours with a parallel WWII.  Goodreads describes it as a "gorgeous fantasy in the spirit of Pan's Labyrinth and John Connolly's The Book of Lost Things."  I thought this book was a wonderful mix of fantasy, historical fiction, and coming-of-age tales.  The mystery of the garden was lovely.  The writing was mesmerizing.  The relationship of the boy and his grandmother was wonderful.  I can't really explain the plot because of spoilers but I did love this one and recommend it.  I believe it is underappreciated.  Plus the garden in this book was inspired by garden of monsters in Bomarzo, Italy.  Arrr!
I had reached a way-marker on the path to adulthood– the first dividing of my heart. To live in this world, I realized, is to leave pieces of your heart in various places; and to move toward any place is to move away from another.
― Frederic S. Durbin, A Green and Ancient Light
the shining girls (Lauren Beukes)
I listened to this one on audiobook and absolutely loved it.  The first mate did too.  This is a complexly woven tale of a serial killer with a time-travel twist.  The killer is from the Depression era and the tale takes the reader through to the early 90s.  The women in the story were absolutely fascinating.  I loved the ship-building mom and the transgendered dancer.  I loved the house.  I loved the use of the artifacts.  I loved the ending.  I love this author!  I cannot wait to see what she will come up with next.  Arrrr!
Time heals. Crushes let up. Splinters work their way out. Doesn't mean they don't leave scars that itch.
― Lauren Beukes, The Shining Girls
the rook (Daniel O'Malley)
This is a fantastic memory loss story with a twist.  Myfanwy Thomas wakes up in a London park surrounded by dead bodies and having no memories about how she got there.  Then she finds a letter in her pocket that says, "The body you are wearing used to be mine."  And so the adventures of the new Myfanwy Thomas begin.  It involves a secret government organization that deals with the occult and supernatural.  It also involves a traitor in the organization who is out to kill her . . . for good this time.  I read this one in short snippets and enjoyed it immensely.  There is a ton of exposition told in the form of an organizational binder entries or letters from Myfanwy's previous incarnation.  Normally that would make me crazy but I ended up being okay with it.  I loved the juxtaposition of the new and old versions of the character.  I loved the world building.  I am excited to see where the next book goes.  Arrr!
'Now, do you mind telling me why you have all these guns lying around? Are you afraid the paperwork will rise up against you?'
'Oh, no. I'm going to use the guns as paperweights.'
― Daniel O'Malley, The Rook
the snow child (Eowyn Ivey)
This is a beautifully written and atmospheric read.  An older childless couple moves to an Alaskan homestead in 1920.  They find the new experience to be overwhelming and are slowly losing themselves and each other.  But on one magical night of the first snowfall, the couple make a snow child in a rare burst of happiness.  The snow child disappears but a little girl is seen running through the woods.  Where did she come from?  From that first glimpse, the couple's lives will never be the same.  This book is filled with a sense of wonder, beauty, and sorrow.  I read this in one sitting.  There is a truly lovely blend of a magical feel and a historical reality.  I highly recommend this evocative tale.
In my old age, I see that life is often more fantastic and terrible than stories we believed as children, and that perhaps there is no harm in finding magic among the trees.
― Eowyn Ivey, The Snow Child
So there ye have it.  Five Fabulous Fantasies.  Arrrr!!