Ahoy there me mateys!  I have read more books this year then there are days left to review them individually.  So today I bring ye a muster of mini-reviews.  What be a muster?
Well the Oxford English Dictionary defines it as:
assemble (troops) especially for inspection or for battle;
collect or assemble (a number or amount); or
a group of peacocks.
Here I take a second look at previously enjoyed novels and give me crew me second reflections, as it were, upon visitin' them again.  They don't get full reviews because I be running out of time.  But me rule is that I have to review every book I read.  Arrrr!
Side note: the book covers come from Goodreads and ye can click on them to add the books to yer Goodreads' Ports for Plunder List.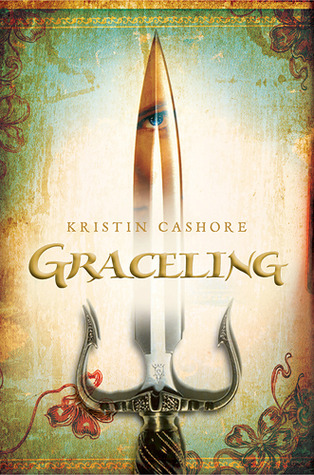 the graceling realm series (Kristin Cashore)
I remember loving this series back in the day.  This series has folks with Graces – a special extreme skill of magic.  Now in the first book graceling, the main character Katsa has the grace of killing people.  But it could also be something simple like being able to pick out a flattering outfit or something.  I listened to these on audiobook and goodness did me viewpoint change.  I still loved the first book.  Katsa and Po have a wonderful story.  The characterizations are better than the plot but the nostalgia was high and I loved it.  But then I absolutely hated the second book, fire.  I was so very bored and the main character, Fire, was whiny and waffling and she sits and lets things happen to her.  I couldn't believe how long this book felt even though I still liked the weird world the author created.  I wasn't sure if I was going to reread book three because of how book two let me down but I did.  Book three was a mixed bag.  Bitterblue is an engaging character but also a waffler.  She also reads more like 12 then 18.  There is a lot of this book where nothing happens.  There is a lot of talk of abuse and how to handle it.  It is rather dark.  Again I thought the plot was weak even if I liked many of the characters.  I don't think I will ever reread the second and third books.  This series weakened immensely in me adult worldview.  But I am glad I revisited it.
"I'm not going to wear a red dress," she said.
"It would look stunning, My Lady," she called.
She spoke to the bubbles gathered on the surface of the water. "If there's anyone I wish to stun at dinner, I'll hit him in the face."
― Kristin Cashore, Graceling
the goose girl (Shannon Hale)
I love Shannon Hale's writing and have read 7 of her books.  This book is the first of the Bayern series.  Not only was this audiobook fantastic but me favourite part was the author's afterword about her process into writing the book.  The story was so very cute and I am glad I know it.  Her website has more insight into this book and the others of the series.  What I loved about revisiting this one is how nuanced and well-written it is.  The hard elements of the original Grimm tales are there but they are tempered with the growth of the wonderful characters.  As Ms. Hale says, "Even though it was my favorite, its strangeness and brevity always left me wanting more. Why did the princess let her lady-in-waiting steal her identity? How did she learn to command the wind? And what about the prince? I thought the story fairly begged to be written into a longer work."  I am so very glad she made this version of the tale.
Oh, but I like my geese. Like cats, they can't be told what to do, and like dogs, they're loyal, and like people, they talk every chance they get.
― Shannon Hale, The Goose Girl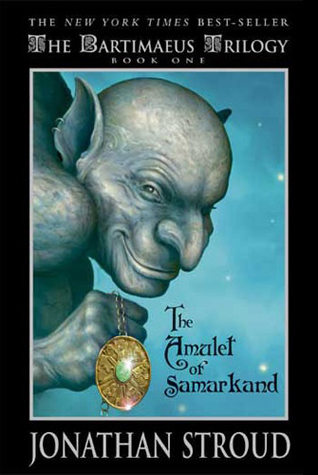 the bartimaeus trilogy (Jonathan Stroud)
Oh how I absolutely utterly love Bartimaeus.  He makes me so very happy.  For those who haven't read the series, it takes place in Britain where magicians rule Parliament and tells the tale of teenage magician Nathaniel who summons Bartimaeus, the djinni, and gets way more than he bargained for.  Nathaniel is obnoxious and arrogant but ye love him in the end.  Bartimaeus is sarcastic and funny and provoking and wonderful.  Listening to the audiobooks was such a treat.  In listening to them, I am not sure if book one or three is me favourite.  But the human and djinni relationship is the highlight of these books.  The plots are wonderful but the characters are even better.  I won't be waiting for so long to read them all again.
One magician demanded I show him an image of the love of his life. I rustled up a mirror.
― Jonathan Stroud, The Amulet of Samarkand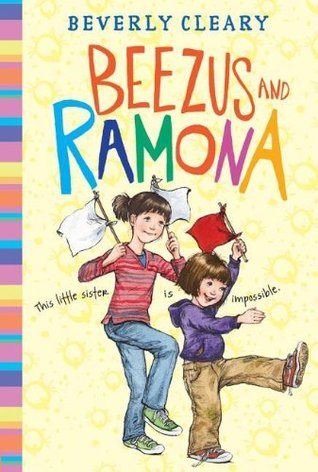 beezus and ramona (Beverly Cleary)
I remember readin' a lot of this series when I was younger.  I was a major fan of Ramona.  I think there was even a television series that I watched back in the day.  I enjoyed listening to this one in audiobook format but it didn't completely re-capture me fancy like the Fudge books did.  But the relationship between the sisters is ultimately sweet.  I particularly loved Beezus' imaginary lizard named Ralph.  I don't see meself listening to any more of the series but did enjoy the trip down memory lane.
Beezus didn't know what she would do without her library card. She couldn't get along without library books. She just couldn't, that was all.
― Beverly Cleary, Beezus and Ramona
So there ye have it.  Me second reflections on some young adult books from me past.  Arrrr!!