Ahoy there me mateys!  I have read more books this year then there are days left to review them individually.  So today I bring ye a muster of mini-reviews of books that must walk the plank!  Books walk the plank when I finish them but do not like them.  What be a muster?
Well the Oxford English Dictionary defines it as:
assemble (troops) especially for inspection or for battle;
collect or assemble (a number or amount); or
a group of peacocks.
I didn't like these enough to want to give full reviews because I be running out of time.  But me rule is that I have to review every book I read.
Side note: the book covers come from Goodreads and ye can click on them to add the books to yer Goodreads' Ports for Plunder List.  Read at yer own peril!
the north water (Ian McGuire)
This be a historical fiction set in 1859 on a whaling ship bound for the Arctic Circle.  The catch is that be a killer on board.  This was longlisted for the Man Booker Prize in 2016.  It is well-written and atmospheric and yet I didn't like it.  The character of Drax is written to be reprehensible.  The author succeeds.  However there is rape of a young boy in this book and graphic descriptions of what happened to him told through examination of his corpse.  It just didn't sit with me well at all.  I didn't want that stuff in me noggin.  I am not sure why this bothered me more then say the alienist did.  But I did not enjoy this one.  The ending in particular irked me.  But it has a 4.00 rating on Goodreads so I seem to be in the minority for this one.  It walks the plank.  Arrrr!
It is not a sin, he tells himself, there is no sin left now, there is only the blood and the water and the ice; there is only life and death and the gray-green spaces in between. He will not die, he tells himself, not now, not ever. When he is thirsty, he will drink his own blood; when he is hungry, he will eat his own flesh. He will grow enormous from the feasting, he will expand to fill the empty sky.
― Ian McGuire, The North Water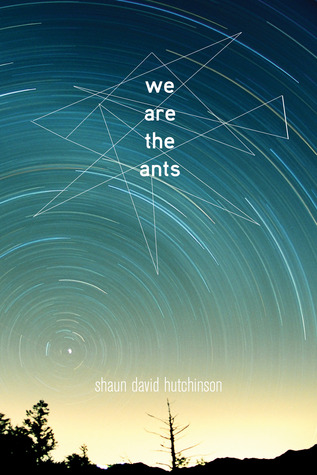 we are the ants (Shaun David Hutchinson)
The science fiction element described in the blurb is what led me to read this one.  I finished it because I wanted an answer to the posited question.  However, the science fiction was a red herring.  That made me angry.  The ending was a complete cop-out.  I wanted a YA sci-fi.  Instead I got an angsty contemporary with a fake veneer of science fiction.  Then ye add in the problematic elements.  A kid trying to take care of his mother when she should be a parent.  A brother who beats the crap out of the main character and that is considered just what brothers do.  A protagonist who has to have a significant other in order to feel complete.  Bullying that is inexcusable.  The triggers for this one (taken from matey Melanie's review) are: "attempted rape, sexual assault, outing, suicide, a lot of physical abuse, extreme bullying, homophobia, homophobic slurs, drug addiction, alcoholism, grief, depression, abandonment, loss of a loved one, talk of self-harm/cutting, and having a loved one with Alzheimer's disease."  Now to be fair, Melanie's review gives this one four stars and explains why very eloquently.  This book just didn't work for me on any level.  It walks the plank!
We may not get to choose how we die, but we can choose how we live. The universe may forget us, but it doesn't matter. Because we are the ants, and we'll keep marching on.
― Shaun David Hutchinson, We Are the Ants
the meg (Steve Alten) WITH BIG SPOILERS
I listened to this one on audiobook and knew it would be cheesy.  I mean it's about a giant megalodon (a 34 – 59 ft. shark) that has survived in the Marina Trench and gets out and starts eating people.  But I enjoyed Jaws and so thought I would give this one a whirl.  The first chapter with an epic battle between a shark and a dinosaur set the tone.  But the believability just got worse and worse.  The protagonist, Jonas, was a Marty Stu.  He gets the young hot girl at the end.  The stuff about the meg was repetitive and got boring.  There was a period in the middle where nothing happens.  Then there is a fake ending.  And the actual ending was so laughable that it just cemented this as a horrible book.  SPOILER – The shark eats the submarine.  Jonas gets out of the submarine, cuts through the stomach, manages to climb into the heart, stabs the meg in the heart to make it die, climbs back in the submarine, and somehow rides it out of the mouth of the dying shark.  Oh and ends up in the arms of hot young student who magically happens to find him in the big, wide ocean to live happily ever after with him.  This was the revised and expanded edition where the author has both a foreward and an afterward where he talks about how this book is based in science.  This book was purchased by school science departments for the realism according to the author.  I hope not.  I hear the movie sucks too.  So this one walks the plank and I hope all copies get eaten by giant hungry sharks!  It does make me laugh thinking about it so there is that.
The female heard every sound, registered every movement, tasted every trail, and saw every sight, for Carcharodon megalodon does not just move through the sea, the sea moves through the Megalodon.
― Steve Alten, Meg
the buried giant (Kazuo Ishiguro)
I believe this was on a list because of being a fantasy with a dragon.  I listened to this one on audiobook.  This is set some 1500 years ago with war going on between the Britons and Saxons.  It follows an elderly couple, Axl and Beatrice, who are off to find their son's village.  The problem – they have lost most of their memories.  In fact, most of their countrymen have no real memories either.  This is just overall an odd book.  The writing is haunting and beautiful.  I sort of enjoyed listening to it.  It kinda lulled me into a stupor.  Sir Gawain of the Arthurian legend is a main character who becomes central to the events of the story.  I loved both Axl and Beatrice.  I loved the warrior Winstan.  But the book felt like being in a fog where the events of the story never pose excitement but instead seem like a dream.  When I heard the ending and woke up from me reverie, I was just confused.  Maybe this be the point of the book.  I am not sure.  I just know that me overall feeling was one of discontent.  For those who want a master storyteller's view on this book, read Neil Gaiman's review of it.  For me it walks the plank.
But then again I wonder if what we feel in our hearts today isn't like these raindrops still falling on us from the soaked leaves above, even though the sky itself long stopped raining. I'm wondering if without our memories, there's nothing for it but for our love to fade and die."
― Kazuo Ishiguro, The Buried Giant
So there ye have it.  Four books that walk the plank never to be seen on me ship again.  Arrrr!!