Ahoy there me mateys!  I received this sci-fi eARC from NetGalley in exchange for an honest review.  So here be me honest musings . . .
stronger, faster, and more beautiful (Arwen Elys Dayton)

Title: stronger, faster, and more beautiful
Author: Arwen Elys Dayton
Publisher: Random House Children's / Delacorte Press
Publication Date: Available Now!! (hardcover/e-book)
ISBN: 978-0525580959
Source: NetGalley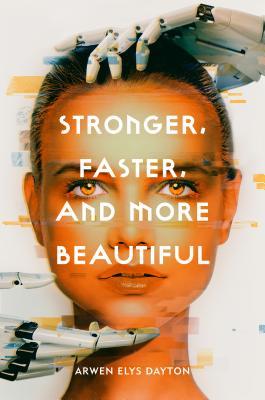 This novel contains six interconnected stories that showcase the possibilities and potential problems that could result from medical science.  Apparently the author's first thought when reading about gene editing was "This is it! We'll be able to eradicate disease, extend our lives, turn humans into superhumans!"  Her second thought was "We will definitely find some way of messing this up in a spectacular fashion."  She uses this novel to explore the space between the two thoughts.
This was an engrossing read whose beautiful writing kept me captivated.  The six parts explore organ transplants, synthetic organs and robotic parts, religious questions surrounding medical ethics, genetically designed children, cryonics, and body modifications.  But this list does not do these stories justice.
Because behind the background of the medical and scientific marvels posed by each chapter, ye also get a brilliant look at the human morals, personalities, and conflicts involved.  Each section poses new questions.  All questions are challenging.  The answers are unexpected or non-existent or both.  This book makes the reader think and feel.  Each jump in time and technology is plausible because of what came before.  And yet when the end is reached, the landscape seems unfathomable.  And possible at the same time.
I highly recommend this book.  Part four was me favourite though all of it was so very good.  Words don't really do it justice.  It has to be experienced.  A fantastic book that the whole crew should read.
So lastly . . .
Thank you Random House Children's / Delacorte Press!
Side note: much thanks to me matey, Paul @ paul'spicks for making me aware of this book's existence.  Arrr!
Goodread's website has this to say about the novel:
For fans of television shows Black Mirror and Westworld, this compelling, mind-bending novel is a twisted look into the future, exploring how far we will go to remake ourselves into the perfect human specimen and what it means to be human at all.

Set in our world, spanning the near to distant futures, Stronger, Faster, and More Beautiful is a novel made up of six interconnected stories that ask how far we will go to remake ourselves into the perfect human specimens, and how hard that will push the definition of "human."

This extraordinary work explores the amazing possibilities of genetic manipulation and life extension, as well as the ethical quandaries that will arise with these advances. The results range from the heavenly to the monstrous. Deeply thoughtful, poignant, horrifying, and action-packed, Arwen Elys Dayton's Stronger, Faster, and More Beautiful is groundbreaking in both form and substance.
To visit the author's website go to:
To buy the novel please visit:
stronger, faster, and more beautiful – Book
To add to Goodreads go to: