Ahoy there me mateys!  I received this comic eARC from NetGalley in exchange for an honest review.  So here be me honest musings . . .
book love (Debbie Tung)
Title: book love
Author: Debbie Tung
Publisher: Andrews McMeel Publishing
Publication Date: January 1, 2019! (hardback)
ISBN: 978-1449494285
Source: NetGalley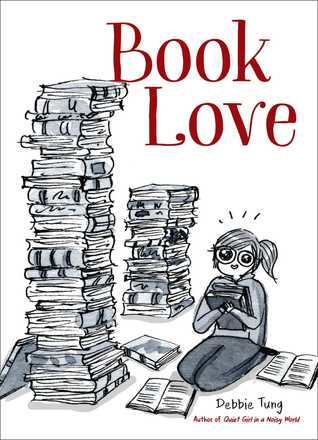 Okay so Andrews McMeel Publishing is make me happy again.  Last week I reviewed loading penguin hugs which I got because I needed a pick-me-up.  I still be feeling a bit under the weather and so when I saw comics about book lovers, I had to immediately read them.
Debbie Tung is definitely one of me crew (even if she has no idea who I be).  She be me guru and spirit animal.  Her comics perfectly reflect book love, introversion, and habits that arise from the two.  An example of her comics (from her website):
This adorable collection is 144 pages of book fun.  All the crew should read it.  Ye can pre-order now.  Don't worry I will also remind the crew closer to publication day if ye currently be short of gold.  I just know that I am glad I found this author to brighten me windy and stormy nights.  Arrr!
Side note: Check out her website.  It be awesome!
So lastly . . .
Thank you Andrews McMeel Publishing!
Goodread's website has this to say about the novel:
Bookworms rejoice! These charming comics capture exactly what it feels like to be head-over-heels for hardcovers.

Book Love is a gift book of comics tailor-made for tea-sipping, spine-sniffing, book-hoarding bibliophiles. Debbie Tung's comics are humorous and instantly recognizable—making readers laugh while precisely conveying the thoughts and habits of book nerds. Book Love is the ideal gift to let a book lover know they're understood and appreciated.
To visit the author's website go to:
To buy the novel go to:
To add to Goodreads go to: