Ahoy there me mateys!  I received this young adult sci-fi eARC from NetGalley in exchange for an honest review.  So here be me honest musings . . .
the future will be bs-free (Will McIntosh)

Title: the future will be bs-free
Author: Will McIntosh
Publisher: Random House Children's / Delacorte Press
Publication Date: TODAY!! (hardcover/e-book)
ISBN: 978-0553534146
Source: NetGalley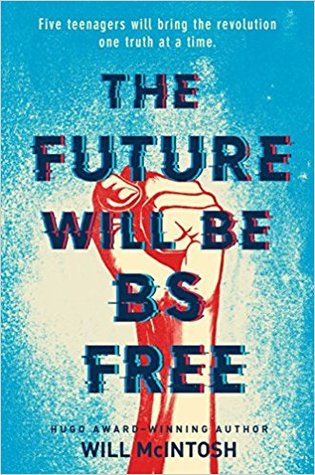 I have loved this author's work ever since I read love minus eighty and have now gobbled up seven of his novels.
Side note: Get me hands on unbreakable and watchdog and all four novellas!
While I liked this one in parts, it was overall just an okay read.  As usual, the concepts are very cool.  The basic premise of this one is there is a group of teens who invent a truth-telling machine.  But someone wants to stop the technology from getting out there.  As for the teens, they don't really understand the ramifications of "nothing but the truth" until it is too late.
So I have to admit that I like being honest.  I think lying is usually a waste of time and resources and I try not to do it.  But what if, for example, someone asks if their outfit looks okay and ye think it doesn't.  But they think they look hot.  So of course ye say that they look awesome because what ye think doesn't matter and ye don't want to hurt feelings.  Well with the truth-rings that would be impossible.  Me friends wouldn't care but an acquaintance?   It could get ugly.
Now the author raises a lot of difficult issues but doesn't address them in any satisfactory way.  Topics touched on – eating disorders, suicides, when someone thinks they be telling the truth but are mistaken, voyeurism, anxiety, cerebral palsy, vigilantism, greed, etc.  Most are used as plot points either as exposed secrets or unintended consequences for the teens to feel bad about.  But feeling bad about them was about as far as it went.  It didn't really seem to make the characters act any differently.
In fact pretty much all of the characters are extremely selfish and self-centered.  In the beginning most of them just wanted money.  I could sympathize.  But their idealism never really seemed to turn into true realism.  Plus unfortunately, the plot has some extreme plot holes and the ending was too convenient.  So the teens really didn't need to grow or change much based on those circumstances.
One of the good elements is that there were caring parents and teachers.  The teens do actually ask the parents for help.  That was a nice change for YA.  The bad parts were that almost all the adults that were involved were ex-military with PTSD or other issues.
Also the romance issues in this book were not to me taste.  The main narrator, Sam, has a crush that is so ridiculous it almost seems cringe-worthy.  The teens all seem to pair off with each other.  The dialogue and tension around the teen-lust was angsty and felt more like 5th graders then almost 18 year olds.  But perhaps I am just too much of a curmudgeon in me old age and can't sympathize with teenage hormones.  I was a very abnormal teen in that respect so me experience was not the mainstream one.
This book was a fast read and I did want to know how it ended.  I loved the concepts and will be pondering the ramifications for some time to come.  This is certainly not me favourite of his but I will continue to read anything he writes.
So lastly . . .
Thank you Random House Children's / Delacorte Press!
Netgalley's website has this to say about the novel:
In a Putin-esque near-future America, the gifted and talented high school has just been eliminated, and Sam and his friends have been using their unexpected free time to work on a tiny, undetectable, utterly reliable lie detector. They're all in it for the money–except Theo, their visionary. For Theo, it's about creating a better world. A BS-free world, where no one can lie, and the honest will thrive.

Just when they finish the prototype and turn down an offer to sell their brainchild to a huge corporation, Theo is found dead. Greedy companies, corrupt privatized police, and even the president herself will stop at nothing to steal the Truth App. Sam sets his sights on exposing all lies and holding everyone accountable.

But he and his friends quickly realize the costs of a BS-free world: the lives of loved ones, and political and economic stability. They now face a difficult question: Is the world capable of operating without lies, or are lies what hold it together?
To visit the author's website go to:
To buy the novel please visit:
the future will be bs-free – Book
To add to Goodreads go to:
Previous Log Entries for this Author
burning midnight (Captain's Log – Young Adult Fantasy)
hitchers (Dead Men Tell No Tales)
faller (On the Horizon – Sci-Fi eArc)