Ahoy there me mateys!  I heard about this amazing book from a review by me crew member, Mogsy @ thebibliosanctum.  It is getting five-star reviews by tons of me crew.  Split into three distinct sections, this story follows a war orphan named Rin.  Very briefly, the sections are 1) school testing ; 2) magic training; and 3) war.
This be a story that grows darker as ye read.  At the beginning, the book almost feels like a YA book where ye cheer young Rin on.  But as Rin matures, so does the book's tone.  School is a place of bullies, lectures, and hard lessons.  And then war comes and it is graphic and unflinching.  But the world-building is lovely and the detail impeccable.
Me only small quibble is that the last part of magic training and the first part of war dragged a little for me.  Other readers did not seem to have this problem.  I do think that if ye can handle the darker subject matter then ye should give this a go.  I certainly want the next book!
Side note: Isn't this cover fabulous?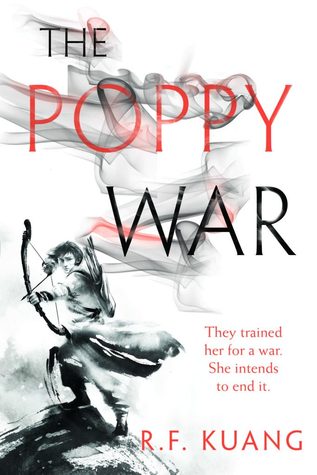 Check out me crew members reviews of this one:
Melanie @ metotheany's review – "And ultimately, this is a story about a girl who has been given nothing but pain in a world that constantly reminds her that she is lesser. And she overcomes every single hurdle and becomes not only what the world said she couldn't be, but she becomes what she wanted to be. Like, this book is powerful, empowering, and a love letter to all girls that are told they can't do something daily."
James Lafayette Tivendale's review – "I can safely say that this will be the finest debut of 2018 and I'd be surprised if it isn't one of the top 3 books of the year full stop. Spectacular, masterclass, brilliant, awesome… All the complimentary buzzwords you can imagine don't quite do The Poppy War justice for how amazing it is."
Goodreads has this to say about the novel:
When Rin aced the Keju, the Empire-wide test to find the most talented youth to learn at the Academies, it was a shock to everyone: to the test officials, who couldn't believe a war orphan from Rooster Province could pass without cheating; to Rin's guardians, who believed they'd finally be able to marry her off and further their criminal enterprise; and to Rin herself, who realized she was finally free of the servitude and despair that had made up her daily existence. That she got into Sinegard, the most elite military school in Nikan, was even more surprising.

But surprises aren't always good.

Because being a dark-skinned peasant girl from the south is not an easy thing at Sinegard. Targeted from the outset by rival classmates for her color, poverty, and gender, Rin discovers she possesses a lethal, unearthly power—an aptitude for the nearly-mythical art of shamanism. Exploring the depths of her gift with the help of a seemingly insane teacher and psychoactive substances, Rin learns that gods long thought dead are very much alive—and that mastering control over those powers could mean more than just surviving school.

For while the Nikara Empire is at peace, the Federation of Mugen still lurks across a narrow sea. The militarily advanced Federation occupied Nikan for decades after the First Poppy War, and only barely lost the continent in the Second. And while most of the people are complacent to go about their lives, a few are aware that a Third Poppy War is just a spark away . . .

Rin's shamanic powers may be the only way to save her people. But as she finds out more about the god that has chosen her, the vengeful Phoenix, she fears that winning the war may cost her humanity . . . and that it may already be too late.
To visit the author's website go to:
To buy the book go to:
To add to Goodreads go to: