Ahoy there me mateys!  I received this sci-fi eARC from NetGalley in exchange for an honest review.  So here be me honest musings . . .
quietus (Tristan Palmgren)

Title: quietus
Author: Tristan Palmgren
Publisher: Angry Robot Books
Publication Date: Available Now!! (paperback/e-book)
ISBN: 978-0857667434
Source: NetGalley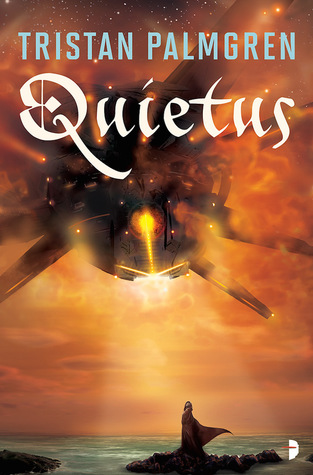 This book appealed to me because it's about anthropologists from another plane doing research on the Black Death.  Their plane is also suffering from a plague and they are hoping the research can save lives back home.  Anthropologists are supposed to stay neutral but one member of the team, Habidah, breaks the rules and rescues a Florentine Carthusian monk named Niccolucio.
Now I abandoned this book at 48% but, to be fair, I loved the first half.  I thought the story of Niccolucio was excellent and really enjoyed reading about the research of Habidah and her team.  The imagery was well done and I really cared about both of the characters.  The problem arose once the politics of the other plane got involved.  The entire tone of the book switched, and I began to feel like I was reading a different book.
Because apparently the expedition had another goal besides the one that Habidah was given.  I won't get into it here but basically it spoiled the premise for me and I didn't want to read about where the author wanted to take the story.  I wanted a book more along the lines of the Doomsday book rather than a space opera.  I did attempt to keep reading several times because I wanted to know what ends up happening to  Niccolucio specifically.  But alas I couldn't stay engaged once the plot switched.  I do have other crew members that loved it though so it might work for ye.
So lastly . . .
Thank you Angry Robot Books!
Goodreads has this to say about the novel:
A transdimensional anthropologist can't keep herself from interfering with Earth's darkest period of history in this brilliant science fiction debut

Niccolucio, a young Florentine Carthusian monk, leads a devout life until the Black Death kills all of his brothers, leaving him alone and filled with doubt. Habidah, an anthropologist from another universe racked by plague, is overwhelmed by the suffering. Unable to maintain her observer neutrality, she saves Niccolucio from the brink of death.

Habidah discovers that neither her home's plague nor her assignment on Niccolucio's world are as she's been led to believe. Suddenly the pair are drawn into a worlds-spanning conspiracy to topple an empire larger than the human imagination can contain.
To visit the author's website go to:
To buy the novel please visit:
To add to Goodreads go to: