Ahoy there me mateys!  This was an audiobook that I picked up for two reasons: 1) the author previously won the Newbery Medal and 2) it has a giant cat on the cover.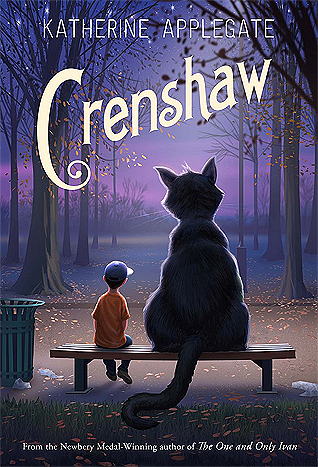 The cat was supposed to be both invisible and magic.  I had assumed that the story would be lighthearted and that the cat and little boy would get into all kinds of adventures.  This book had a way more serious tone.  It was about a struggling boy named Jackson.  His mom lost her job and his dad has MS.  They are poor and about to lose their home . . . again.  His parents continue to treat every situation with an upbeat attitude.  Jackson knows the problem is serious and doesn't know how to make his parents tell him the truth about their circumstances.
Like how Harvey the rabbit is a sign of alcoholism, Crenshaw is a sign of troubled times.  One of the more interesting points of this book is that Crenshaw doesn't magically fix things.  He is more of a sounding board and a solid presence in Jackson's life.  A friend.  Only, in the beginning, Jackson thinks he is going insane because why should he be seeing a giant talking cat that he thought was an imaginary friend he left back in kindergarten.
I enjoyed the fact that Jackson is going through self-discovery and that the cat doesn't magically fix the parents' situation.  The cat is a background personality for the most part and much of his involvement is through flashbacks.  I loved that Jackson had loving parents who did want the best for their children.  I loved silly Crenshaw.  This was a wonderful story, dealing with the effects of poverty, friendship, family, and resilience.  I will certainly be reading more of Katherine Applegate's work.
Side note:  The narrator, Kirby Heyborne, did a wonderful job!
Goodreads has this to say about the novel:
In her first novel since winning the Newbery Medal, Katherine Applegate delivers an unforgettable and magical story about family, friendship, and resilience.

Jackson and his family have fallen on hard times. There's no more money for rent. And not much for food, either. His parents, his little sister, and their dog may have to live in their minivan. Again.

Crenshaw is a cat. He's large, he's outspoken, and he's imaginary. He has come back into Jackson's life to help him. But is an imaginary friend enough to save this family from losing everything?
To visit the author's website go to:
To buy the book go to:
To add to Goodreads go to: