Ahoy there me mateys!  I received this young adult fantasy eARC from NetGalley in exchange for an honest review.  So here be me honest musings . . .
the hazel wood (Melissa Albert)

Title: the hazel wood
Author: Melissa Albert
Publisher: Flatiron Books
Publication Date: TODAY!!! (hardback/e-book)
ISBN: 978-1250147905
Source: NetGalley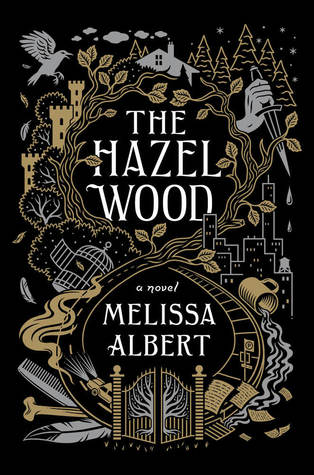 This book was a slow-burning, dark, and atmospheric read.  It felt like a Grimm's fairy-tale mixed with some Alice in Wonderland but was mostly set in our modern world.  For all of the book's slow pacing, I somehow found meself mesmerized by the mystery of it all.
Alice and her mom are always beset by bad luck and have led a fairly nomadic life.  Alice's life has been heavily influenced by the tantalizing facts about her grandmother, Althea, even though they have never met.  Ye see a young Althea wrote a famous children's book of fairy-tales and became a sensation.  Yet the book is hard to get a hold of.  It is a rare collector's item and is out of print.  Alice has never been allowed to read it.  The one time she tried she only got as far as the table of contents before her mom confiscated the volume.  It was never seen again.  Why are Alice and her mom always on the run?  And what is so special about those stories?
If ye read this novel ye can find out.  Alice is a kinda quirky, if tad unlikable, character and her journey certainly is an interesting one.  Most of the story takes place in a seemingly contemporary tale where the fantasy can be glimpsed in the seams and cracks outside of periphery vision.  Those glimpses are enticing.  Of course the fantasy elements increase as the story progresses and that was super fun.
The only small quibble was the ending felt unsettled.  But it fit the Grimm-like mood and so I was satisfied.  Then, of course, I found out it is part of a series!  I do think it can feel like a standalone though.  I do wonder what adventures Alice will get into next.
So lastly . . .
Thank you Flatiron Books!
Goodreads has this to say about the novel:
Seventeen-year-old Alice and her mother have spent most of Alice's life on the road, always a step ahead of the uncanny bad luck biting at their heels. But when Alice's grandmother, the reclusive author of a cult-classic book of pitch-dark fairy tales, dies alone on her estate, the Hazel Wood, Alice learns how bad her luck can really get: her mother is stolen away―by a figure who claims to come from the Hinterland, the cruel supernatural world where her grandmother's stories are set. Alice's only lead is the message her mother left behind: "Stay away from the Hazel Wood."

Alice has long steered clear of her grandmother's cultish fans. But now she has no choice but to ally with classmate Ellery Finch, a Hinterland superfan who may have his own reasons for wanting to help her. To retrieve her mother, Alice must venture first to the Hazel Wood, then into the world where her grandmother's tales began―and where she might find out how her own story went so wrong.
To visit the author's twitter go to:
To buy the novel please visit:
To add to Goodreads go to: