Ahoy there me mateys!  I received this sci-fi eARC from NetGalley in exchange for an honest review.  So here be me honest musings . . .
artemis (Andy Weir)

Title: artemis
Author: Andy Weir
Publisher: Crown Publishing
Publication Date: TODAY!!! (hardback/e-book)
ISBN: 978-0553448122
Source: NetGalley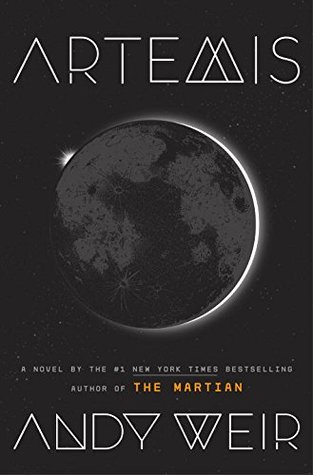 Andy Weir's newest book was a super fun read.  He is a versatile writer in that overall this book has a completely different feel than the martian.  And that's a good thing.  But the areas that made the martian a success are present here.  Snarky intelligent character.  Check.  Science and physics facts that are accessible for physics hating people.  Check.  World building so good that ye feel ye could step off the spaceship onto the planet, or in this case moon.  Check.
This book was a fast-paced adventure heist that kept me rapidly turning pages until the end.  The main character, Jazz, is super intelligent but lacks common sense.  She continues to make one bad decision after the other.  At 26 she seems destined to be stuck in a low-level job on the margins.  Then an enticing offer comes along that could give her a lot of money and move her into a lifestyle of comfort.  Of course it's another bad choice and the consequences impact more than just her.  Can she fix it or will the moon as she knows it change for good?
Jazz as a character was the weak point of the book for me in that she is just such a mess.  She does read younger than 26 at times and is so annoying at others.  But she slowly won me over by the end.  I loved that her father is present and a good parent.  Her family is diverse.  She is a Muslim of Saudi Arabian descent.  Actually, the moon is full of people of different backgrounds.  I also loved how the moon is portrayed as dangerous and how the citizens police themselves.  It was both funny and made logical sense.
Overall I thought this was a great book by Mr. Weir and I will certainly be reading whatever he writes next.  If ye have a hankerin' to visit the moon then I suggest ye pick this one up.  Just be prepared that it's a crazy time to visit.
So lastly . . .
Thank you Crown Publishing!
The reviews of this one vary widely so check out the thoughts of me crew:
Annie @ themisstery – a take on a book outside her comfort zone!
Goodreads' website has this to say about the novel:
Jazz Bashara is a criminal.

Well, sort of. Life on Artemis, the first and only city on the moon, is tough if you're not a rich tourist or an eccentric billionaire. So smuggling in the occasional harmless bit of contraband barely counts, right? Not when you've got debts to pay and your job as a porter barely covers the rent.

Everything changes when Jazz sees the chance to commit the perfect crime, with a reward too lucrative to turn down. But pulling off the impossible is just the start of her problems, as she learns that she's stepped square into a conspiracy for control of Artemis itself—and that now, her only chance at survival lies in a gambit even riskier than the first.
To visit the author's website go to:
To buy the novel go to:
To add to Goodreads go to: